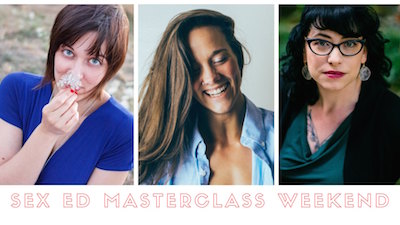 Sex Skills Masterclass Weekend with Amory Jane, Gretchen Leigh, and Stella Harris
Sat, Oct 5, 2019 at 8:30am - Sun, Oct 6, 2019 at 4pm (Pacific)
21+
Criminal background check required
Want to level up your sexual skills or your communication? Want to meet other sex positive people? Want to learn from some of Portland's best sex educators? The Sex Ed Masterclass is for you.

Join educators Amory Jane, Gretchen Leigh, and Stella Harris for a two-day intensive that will leave you bursting with new skills and knowledge, and a new view of sex and sexuality.

Saturday classes will cover everything from anatomy to touch techniques, and will include live demonstrations along with time for you to practice new techniques. Saturday night will include a sensual dinner experience and after dinner entertainment.
All attendees will receive gift bags with sex-positive items from Luminous Botanicals, She Bop, Uberlube, and more.

Overnight accommodations are available (sleepover style), or you can simply join us for the daytime programming.

Sunday we'll deep dive into some particular skills, including kink. We'll have shorter lab periods led by all instructors so you can pick and choose your areas of interest (or simply relax on the beautiful grounds during some of the time slots, or continue your own private practice.)

The White Oak Center is a beautiful retreat in SW Portland with three floors for programming and plenty of space to sneak off and rest or regroup. The beautiful decks overlook meadows and trees and there's also a hot tub for our enjoyment.

Attend solo, with a partner, or with multiple lovers. Our instructors are LGBTQ, polyamory, and monogamy affirming, and all programming is presented with inclusivity at the forefront. Bring an open mind and all your sex and communication questions. We can't wait to see you there!
Weekend Schedule
Saturday - Workshops + Evening Activities
8:30-9:20 AM = Check-In & Continental Breakfast
9:30-10 = Welcome & Opening Circle
10:15-Noon = Inclusive Anatomy + Safer Sex
12:15-1 PM = Communication in the Bedroom
1-2 = Lunch
2-3 PM = Concurrent Workshops - You choose:
Ass Like That (Butt stuff with Gretchen)

Bon Appetit: The Fine Art of Cunnilingus (led by Stella, assisted by AJ)
3:15-4:15 =
Vulva Magic: G-spot, Squirting, and Touch Techniques (Gretchen & Stella)

BJs with AJ: A Fellatio Workshop (AJ)
4:30-5:30 =
Fellatio 2.0: An Oral Sex Upgrade (led by Gretchen)

Back That Ass Up! (Anal Sex 101 with AJ)
5:45-6:45 =
Strap on for Play: oral, pegging, and more (led by Stella)

Sex Toys Masterclass (led by AJ)
7-8 = Dinner
8:30 = Optional Evening Activities
Blindfolded sensual dessert
Journaling (there will also be a beautiful covered outdoor space for self-care & journaling throughout the day)
Free time to practice new skills, use the hot tub, etc.
9:30 = Optional Evening Activities
Cannabis Massage - Hands-On Workshop by Amory Jane & Luminous Botanicals
Journaling
Free time to practice new skills, use the hot tub, etc.
11PM = Retreat officially ends for the day, but folks are welcome to stay (slumber party style)!
Sunday - Kinky Lab Sessions
8-9 AM = Bonus option: Morning yoga with Gretchen
9:30 = Continental Breakfast + Sunday Opening Session
10:15-11AM = Concurrent Experiential Workshops - You choose:
Introduction to Rope Bondage (Stella)
Carnal Creativity (Role play + Dirty talk with AJ & Gretchen)
11:15-Noon =
Empowered Bottoming (Gretchen)
Roughhousing for Adults (Rough Sex 101 led by Stella)
12-1 = Lunch (+ optional group discussion on Ethical Non-Monogamy)
1-1:45 = Concurrent Experiential Workshops - You choose:
Thwap, Smack, Sting! Impact & Spanking (Gretchen & Stella)
Swinging & Threesomes, & Orgies, Oh My! (Group Sex workshop with AJ)
2-2:45 =
Sensational Exploration (Sensation play with AJ)
Introduction to Rope Bondage (Stella)
3-4:30 = Closing Circle