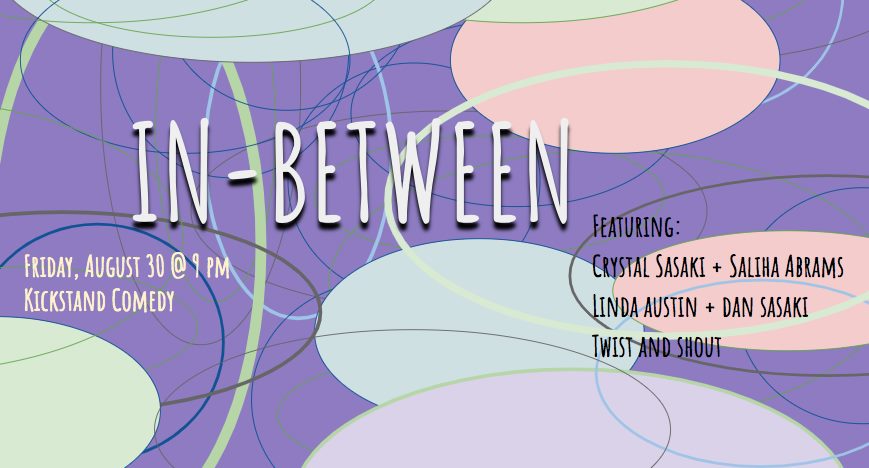 In-Between
Fri, Aug 30, 2019 from 9pm - 10:30pm
Gender Neutral Bathrooms
All Ages
ADA Accessible
Beer/Wine/Cider
Snack Bar
LGBTQIA Friendly
In-Between is a new show that highlights creative, live performance that lives between different genres. This first event kicks off with an incredible list of performers, featuring:
Music and movement by Crystal Jiko Sasaki + Saliha Abrams
Movement and music by Linda Austin + Dan Sasaki
Twist and Shout with Lee Elderton, Grant Pierce, Amy Conway, Michael Zimmer, Michael Knackstedt and Chelsea Petrakis

This show grew out of Twist and Shout, a show that blends improvised music with improvised comedy that formed in May of 2018. In Between invites a variety of performers to live in the playful spaces between defined creative practices.

Bios:

Saliha grew up listening to Gaelic and Armenian folk songs, and singing Baptist hymns. She sang in choirs for years, and a band here and there. About 12 years ago she discovered a love for improvisational singing, and uses it as a tool to capture the feeling of the moment. She loves collaborating with other performers, as well as with the energies of plants, trees, rocks, water, and other Nature beings, to bring something of their essence into sound.

crystal jiko sasaki is exploring paradox, pleasure and care as a collaborative movement artist. www.lightmolecule.com

Linda Austin, Founding Artistic Director of Performance Works NW in Portland, Oregon, deploys movement, sound, objects, text, and visuals to create non-linear, poetic works laced with an eccentric wit, teetering on the edge between the immediately apprehensible and resolutely mysterious. Austin has presented at venues and festivals such as Danspace Project, Performance Space 122, On the Boards' NW New Works, the Risk/Reward Festival, and Portland Institute for Contemporary Art's TBA Festival. She is the recipient of the 2017 Foundation for the Contemporary Arts Merce Cunningham Award and RACC's 2014 Fellowship in Performing Arts, along with fellowships from the Oregon Arts Commission and the New York Foundation for the Arts.

Dan Sasaki has played music with:
Jim Valley (Paul Revere and the Raiders), Adam Jones (Tool), Krist Novoselic (Nirvana), Mirah, Stuart Dempster

Sasaki has received no awards and has not participated in any workshops or residencies.
He earned his diploma from Stadium High School, Tacoma, WA.

Twist and Shout features Grant Pierce, Lee Elderton, Amy Conway, Michael Zimmer, Michael Zimmer, and Chelsea Petrakis. Twist and Shout formed in 2018 and has performed at The Improvisational Summit of Portland, at Kickstand Comedy and at Turn, Turn, Turn. Improvised musicians perform with comedy improvisers, performing as one group on the stage at all times, moving from comedy to music and overlapping through both.