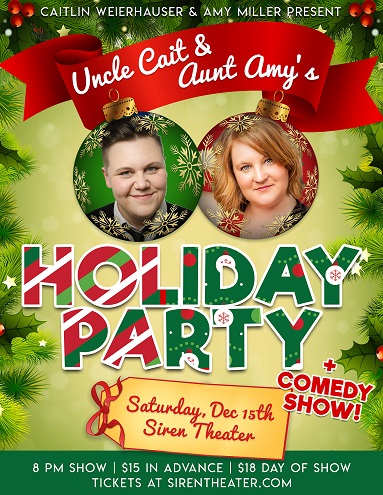 Uncle Cait & Aunt Amy's Holiday Party!


with Caitlin Weierhauser & Amy Miller
Sat, Dec 15, 2018 from 8pm - 10pm
The Siren Theater presents: Uncle Cait and Aunt Amy's Holiday Party
Let the joyous season of sweater weather, spiced everything, and boozy nog ignite your yule log because there's a Holiday Party Comedy Show, and attendance is mandatory.
Dress your best and revel with Portland's favorite sweetheart bullies Amy and Cait as they bring you the best-case-scenario obligatory soiree: holiday stories, carol karaoke, stand-up, very special guests, and the trademark charming tough love of your favorite ex-Rip City dwellers!
+++No treats for cowards+++
+++Ugly sweaters will be judged from stage. How about a NICE sweater? You're an adult and you deserve love.+++
We'll give you something to be Jolly about.
Get tickets now!
One night only
7:15 doors/ 8:00 show
$15 adv/ $18 door (Advanced ticketing ends at 6pm on night of show)
sirentheater.com